Back
Durafi Research – Crypto Market Update, 6 June 2022
June 2, 2022
By Vincent Fernando, CFA and Simeon Spencer
Follow our Twitter and Telegram to receive our latest research updates.
Durafi Crypto Index (DCI)
7D Performance: 6.2%
The DCI rose by 6.2% over the past week, driven by Bitcoin (+6.6%), Ethereum (+5.0%), and Cardano (+32.4%) which was also the top performer.
The overall crypto market didn't see significant gains over the week, however, earlier today, Bitcoin rose above the US$30k mark and has managed to break resistance to trade at US$31,490.66 presently, representing a 6.1% rise in the last 24 hours. The momentum from Bitcoin has caused inflows to other cryptocurrencies as well, bringing the overall index up by 6.5% in the past 24 hours.
One reason for Cardano's (+32.4%) performance could be due to an overall reported increase in on-chain activity with daily transactions reaching 42.5m, an increase of 7.74% over last month, according to the Cardano Foundation. The foundation's Project Catalyst Fund also funded 947 proposals in May.
One thing to note, Cardano's highly anticipated Vasil hard fork will occur soon on 29 June. The fork will be an upgrade for the overall network by increasing throughput and reducing latency in block transmission.
Durafi DeFi Index (DDI)
7D Performance: 15.0%
The DDI rose by 15.0% from last week, driven by an overall increase in all index constituents. However, the top performers were Chainlink (+21.0%), Aave (+16.2%), and The Graph (+17.9%).
The DeFi sector recovers slightly mainly due to the momentum of Bitcoin breaking through price resistance at US$30k, causing inflows into the overall crypto market. Chainlink also outperforms possibly due to its price feeds going live on the Solana Mainnet, providing Solana dapps and devs with access to chainlinks price oracles, according to a press release by Chainlink.
The Graph also outperformed potentially due to positive developments during Graph Day, an event organized by the Graph on June 2 followed by a 3-day hackathon.
Durafi NFT Index (DNI)
7D Performance: 8.5%
The DNI increased 8.5% in the past week mainly due to Axie Infinity (+20.9%) and Decentraland (+8.7%). The rest of the index constituents performed favorably as well but to a lesser extent.
The NFT market also experienced inflows due to Bitcoin's momentum in the past day, however, Axie Infinity outperformed its peers over the week likely due to the developer Sky Mavis announcing the first of the projects accepted into the Axie Infinity Builders Program, an initiative that aims to drive community co-development of the Axie ecosystem by providing grants to community developers.
Last Tuesday, Axie Infinity announced that it had selected the first 11 projects for the Builder Program, most of which are mini-games to be developed and integrated into the current ecosystem.
Durafi Metaverse Index (DMI)
7D Performance: 11.4%
The DMI rose by 11.4% in the past week, owing to overall strong performance from 80% of the index constituents. The top performer was Axie Infinity (+20.9%), followed by Render (+9.5%), and both Decentraland (+8.7%) and Enjin Coin (+8.7%) in 3rd place.
The Metaverse index was also carried upwards by Bitcoin's momentum earlier today and Axie Infinity's announcement of the first wave of projects in its Builders Program earlier in the week. On top of this, CNBC reported that the South Korean government invested US$177.1m into its Digital New Deal program, which aims to launch the metaverse industry in Korea. This is one of the first metaverse initiatives launched by a national government and indicates the enormous potential the nascent space has.
Durafi GameFi Index (DGI)
7D Performance: 9.4%
The DGI rose by 9.4% from the last week driven mainly by Axie Infinity (+20.9%). Enjin Coin (+8.7%) had the 2nd best performance in the index, while STEPN (-3.9%) was the only underperformer.
The GameFi index also saw a similar upturn carried by Bitcoin earlier today. Furthermore, due to the high correlation with crypto metaverse and NFT projects, it is likely that any positive media from the aforementioned spaces have also had a similar effect on the GameFi space.
While the GameFi has been outperforming, we note that active user counts have fallen dramatically, as covered below.
Despite GameFi's Current Positive Performance, the Number of Active Users in Ethereum Games has Fallen by 96% Since Nov 2021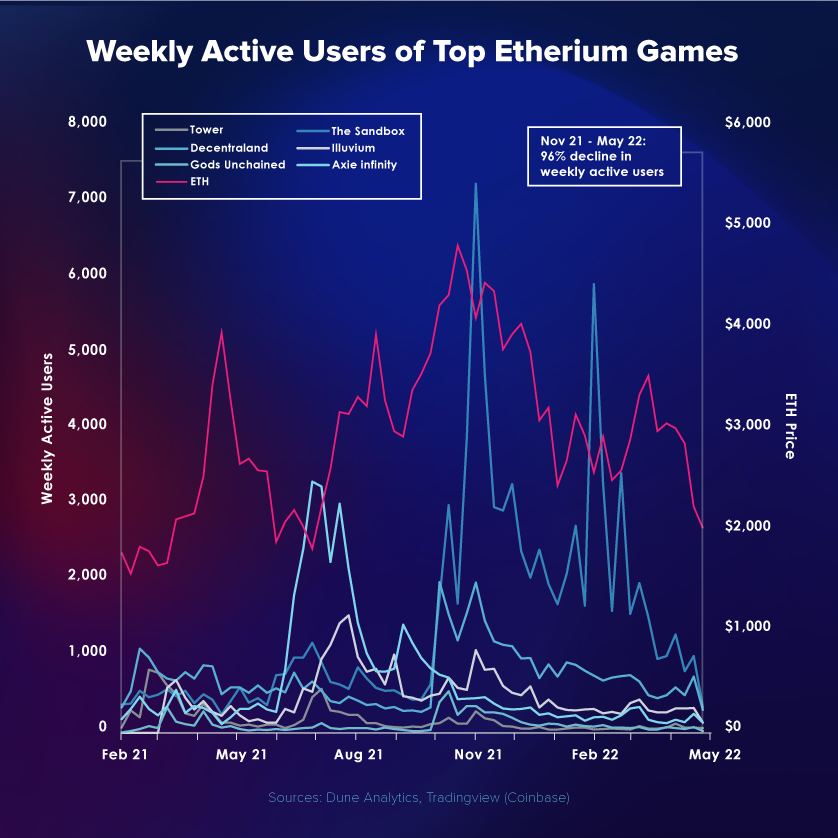 In an article by Bitcoinist, data from Arcane Research stated that Ethereum-based games such as Axie Infinity, The Sandbox, Decentraland, and others have seen a decline in weekly active users (WAU) since November 2021. The overall WAU for all Ethereum-based game dapps fell by 96% between November 2021 and May 2022.
As a large portion of blockchain games are based on the P2E model, it is likely that the main cause of the decline in WAU can be attributed to the overall crypto bear market causing the value of tokens earned from P2E games to spiral downwards, in turn reducing the attractiveness of these game dapps.
Other Developments
Data from Block Inc. Found a Positive Correlation Between Crypto Knowledge and Optimism for Bitcoin's Future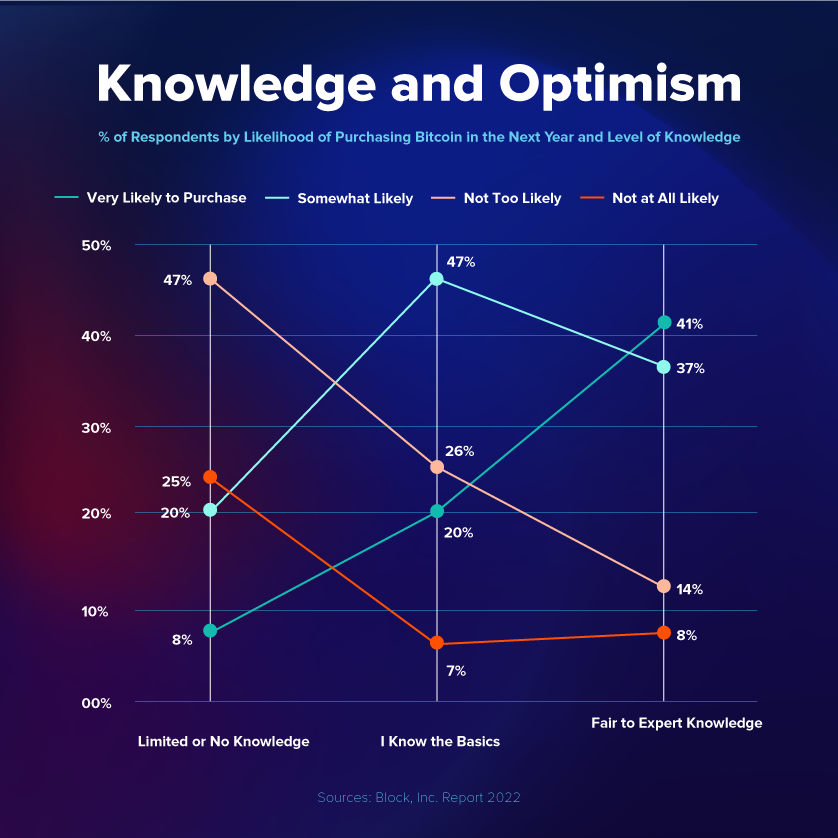 The Block Inc's report showed that among people who had fair to expert knowledge of cryptocurrencies, 41% were very likely to purchase bitcoin within the next year, while 37% were somewhat likely to purchase bitcoin within the next year. In comparison, only 8% of people with limited or no knowledge of cryptocurrencies were very likely to purchase bitcoin in the next year.
While this is not indicative of bitcoin's price recovering within the next year, it does show that people are still optimistic about the future of cryptocurrencies despite the current bear market.
Nigeria, India, and Vietnam are More Optimistic About Bitcoin's Future Compared to Western Countries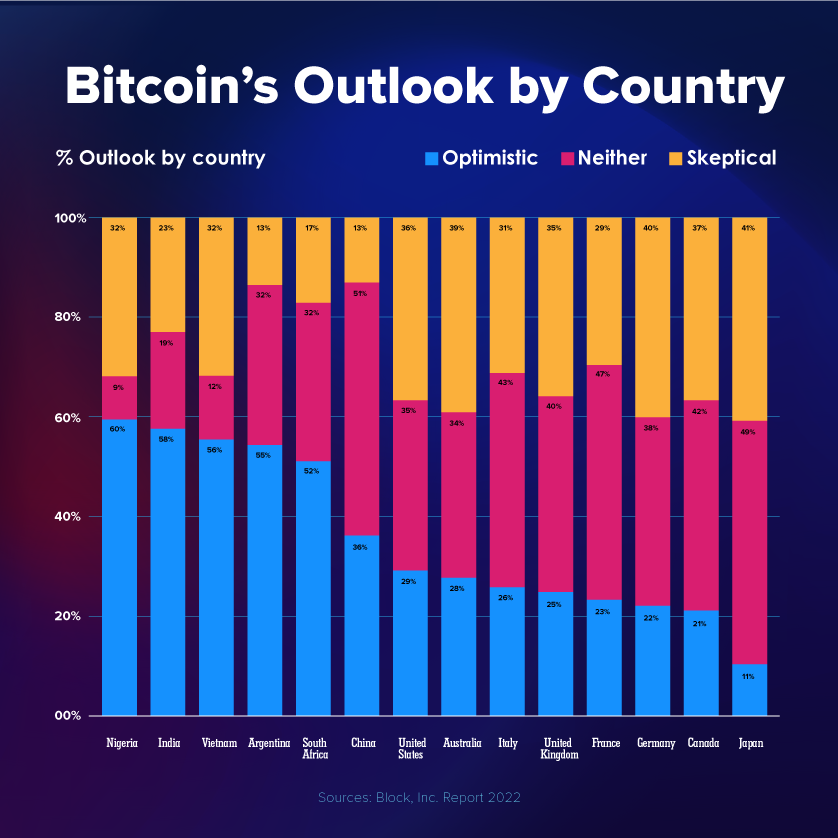 One would think that with the number of high-profile cryptocurrency projects based in the United States and Europe, the populace of these countries may have more exposure to cryptocurrencies and their underlying utilities, which would contribute to a more optimistic view of the space.
On the contrary, data from Block Inc. shows that Nigeria, India, and Vietnam were the most optimistic with 60%, 58%, and 56% of surveyees respectively stating that they were optimistic about the future of Bitcoin. In comparison, the United States only had 29% of surveyees expressing optimism about Bitcoin's future with 51% stating that they were neither optimistic nor skeptical.
Asian Countries Have a Lead Over Western Countries in Terms of Number of Players in NFT Play-to-Earn Games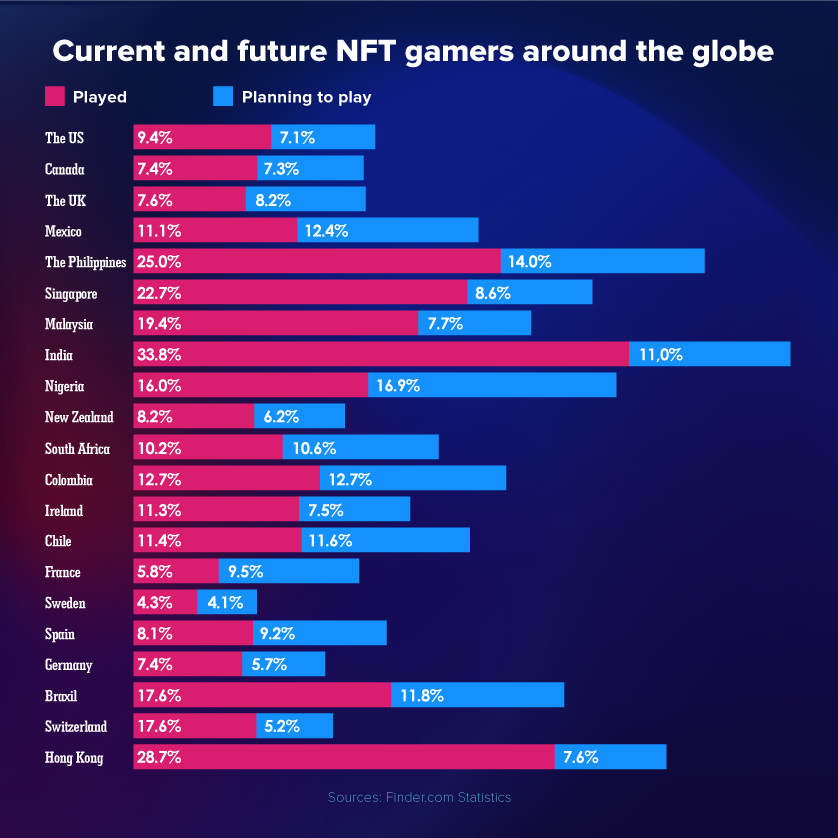 Survey data from Finder.com found that India, Hong Kong, and the Philippines had the highest percentage of surveyees who had played an NFT game before with 33.8%, 28.7%, and 25.0% respectively. This is significantly higher compared to the US, Canada, and the UK, which had 9.4%, 7.4%, and 7.6% respectively.
As it stands, most NFT games do not offer as much content and gameplay depth compared to AAA titles or mainstream mobile games. It is likely a large number of players in Asian countries are drawn toward NFT games due to the Play-to-Earn (P2E) model which could provide a source of side income.
However, as NFT games continue to develop content and gameplay features, we can expect more traditional gamers globally to partake in NFT gaming.
Despite Bear Market, Bitcoin Rose by 503% Between March 2020 to May 2022, Surpassing Most Tech Giants Except Tesla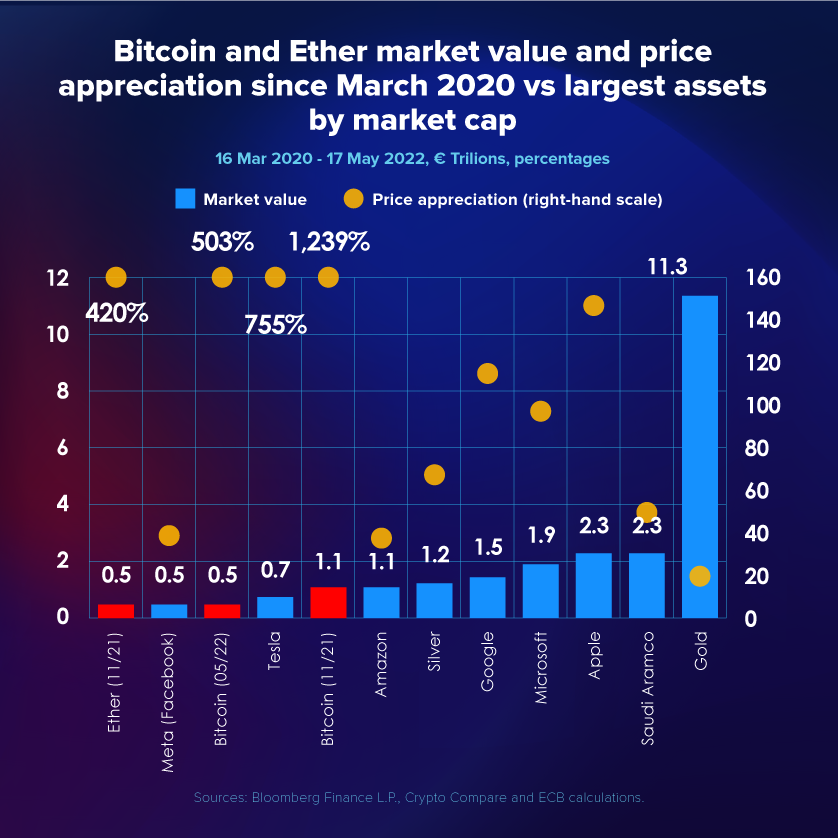 At its peak in November 2021, Bitcoin was up 1,239%. However, even with Bitcoin prices crashing down since then, the cryptocurrency has still appreciated by 503% between 16 March 2020 and 17 May 2020, according to data from the European Central Bank. This surpasses the performance of all major tech giants such as Apple, Google, and Amazon within the same timeframe. Bitcoin is only surpassed by Tesla which has a surged 755% since March 2020.
85.3% of Institutional Investors Agree that Cryptocurrencies are Useful for Portfolio Diversification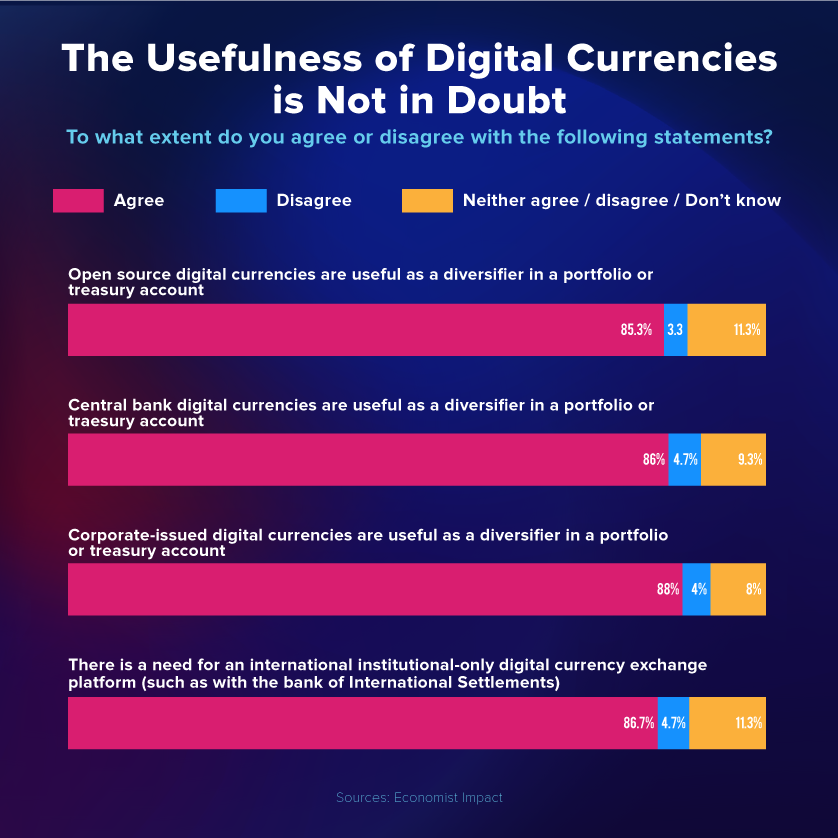 In the Economist's Digimentality 2022 report, 150 institutional investors and corporate treasury managers were surveyed, out of which 85.3% agreed that open source (non-bank) digital currencies were useful as a diversifier in a portfolio or treasury account, increasing 5.3% from last year's result of 80% despite the crypto bear market.
The general sentiment among the institutional investors surveyed by Economist was that most agreed that digital currencies had utility, with most of the survey questions about the usefulness of digital currencies having more than 80% of surveyees in agreement.
Durafi Crypto Indices Performance Details
Durafi Crypto Index (DCI)
Snapshot Taken on 06/06, 07:00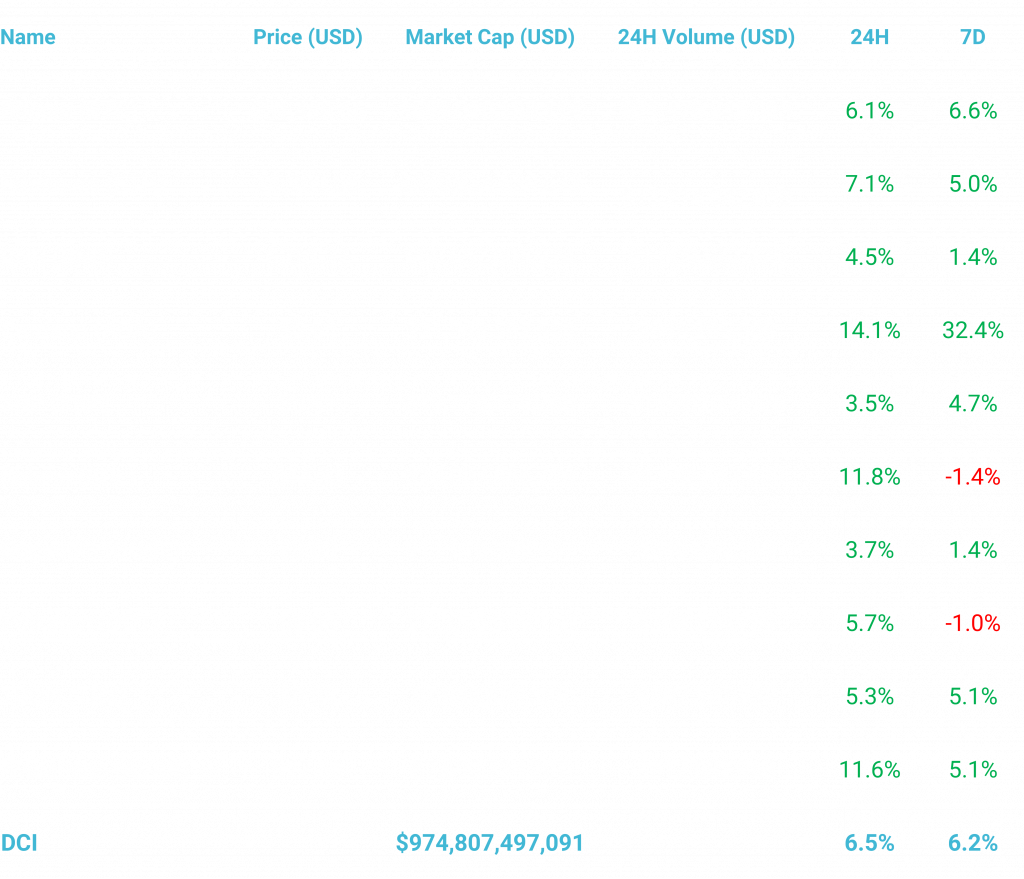 Durafi DeFi Index (DDI)
Snapshot Taken on 06/06, 07:00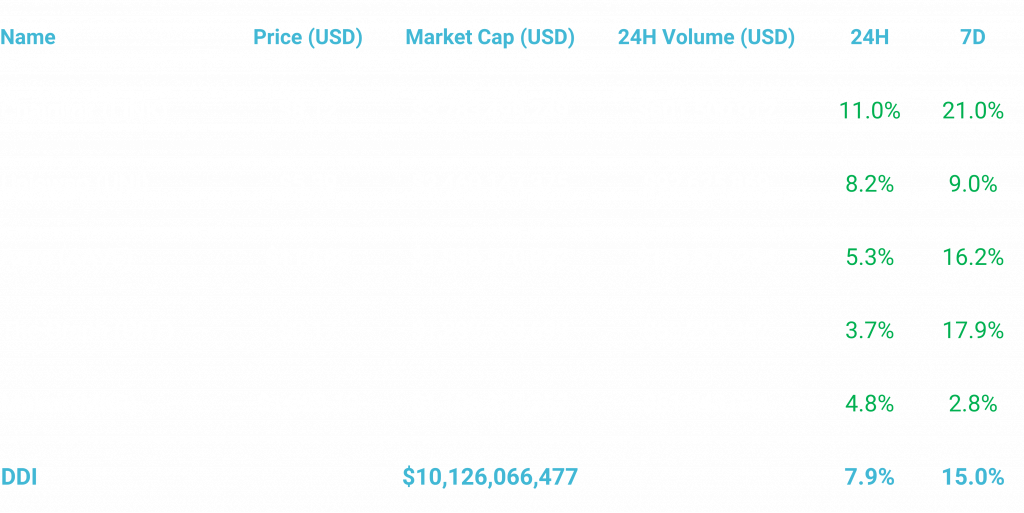 Durafi NFT Index (DNI)
Snapshot Taken on 06/06, 07:00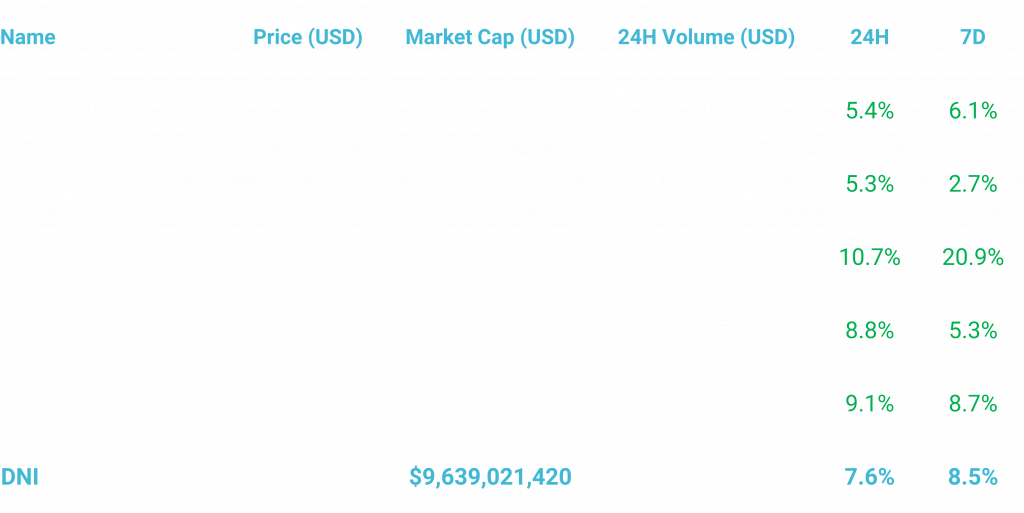 Durafi Metaverse Index (DMI)
Snapshot Taken on 06/06, 07:00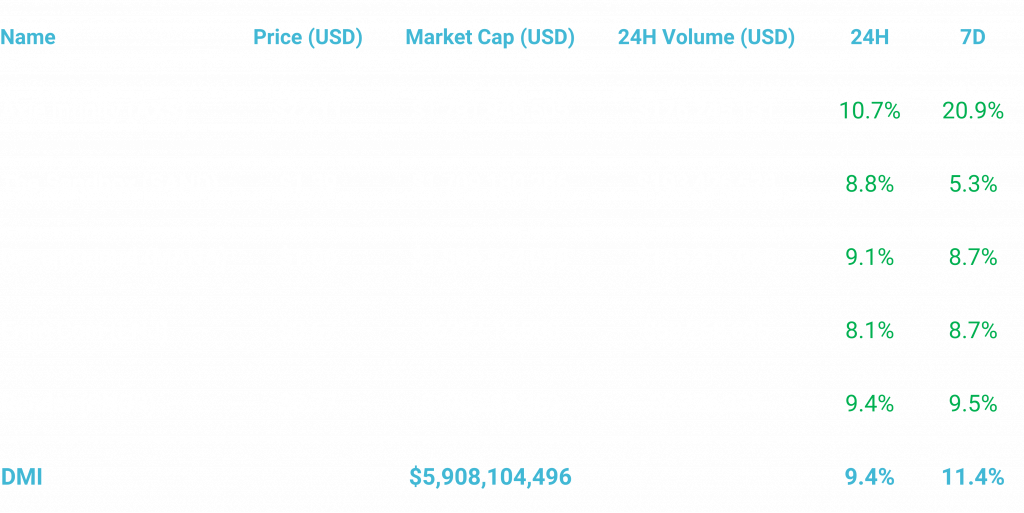 Durafi GameFi Index (DGI)
Snapshot Taken on 06/06, 07:00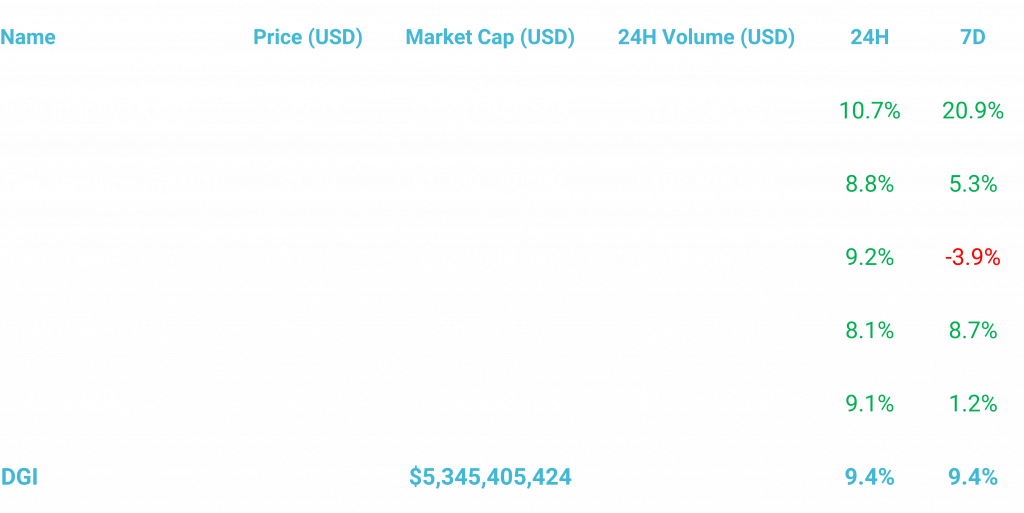 Disclaimer
This document is provided for general information purposes only. Nothing in this document shall be construed as a recommendation to purchase, sell, or hold any security or other investment, or to pursue any investment style or strategy. Nothing in this document shall be construed as advice that purports to be tailored to your needs or the needs of any person or company receiving the advice. The information in this document is intended for general circulation only and does not constitute investment advice. Nothing in this document is published with regard to the specific investment objectives, financial situation, and particular needs of any person who may receive the information.