Back
Durafi Research – Crypto Market Update, 13 June 2022
June 13, 2022
By Vincent Fernando, CFA, and Simeon Spencer
Follow our Twitter and Telegram to receive our latest research updates.
Durafi Crypto Index (DCI)
7D Performance: -22.7%
The DCI declined by 22.7% over the past week, driven downwards by Solana (-28.8%), Ethereum (-32.0%), and Dogecoin (-33.1%). Bitcoin (-19.6%) had the least negative price action in the DCI.
Last Friday, the U.S Bureau of Labour Statistics announced that the consumer price index (CPI) rose 8.6% year on year in May, which was the highest increase since Dec 1981 higher than the forecast of 8.3% made by Economists surveyed by the Wall Street Journal. This caused Bitcoin (-19.6%) and the overall crypto market to slump over the weekend.
XRP (-20.9%) was down the least compared to other index constituents possibly due to the positive developments in the Ripple vs. SEC lawsuit and Ripple's partnership with Lunu, a platform that enables luxury retailers in the EU and UK to accept crypto payments through in-store POS terminals.
Cardano (-20.0%) was also less affected likely due to its recent growth in network activity which we covered last week and also the recent reveal that Cardano has 1,000 projects currently being built on the network.
Here are the key developments of the biggest movers in the DCI over the past week:
Solana Fell 28.8% Despite Strong NFT Sales and Launch of US$100 Million Fund for DeFi/GameFi
Solana continues to show NFT sales with a total of US$173m in monthly sales as of today, June 13, according to CryptoSlam NFT data. Although still significantly smaller than Ethereum's total monthly sales of US$947m, Solana has a higher transaction count of 1.35m monthly transactions compared to Ethereum's 1.12m. Solana is currently the 3rd largest NFT blockchain by total NFT sales only surpassed by Ethereum and Ronin.
Over the week, the Solana Foundation and Solana Ventures also announced the launch of a new US$100m fund to grow NFT, GameFi, and DeFi projects in South Korea.
Despite these positive developments, Solana is still down 28.8% likely due to CPI reaching new highs and also the recent network outage on June 2.
Ethereum Dipped 32.0% Despite Successful Proof-of-Stake Merge Trial on Testnet
Ethereum took a step closer to shifting towards a proof-of-stake system last Wednesday with the success of the merge upgrade on Ethereum's testnet called Ropsten. While completion of the merge is expected to be in August, this indicated that the network was on track for the upgrade.
However, earlier today, it was reported that the Ethereum core developers will delay the "difficulty bomb", an essential part of the merge that will force validators in the network to accept the merge, by 2 months. This likely means an overall delay in the Ethereum networks merging to proof-of-stake.
Durafi DeFi Index (DDI)
7D Performance: -31.9%
The DDI has fallen by 31.9% from last week, owing to an overall decline in all index constituents. Chainlink (-27.4%) was the least affected, while Aave (-43.6%) was the biggest underperformer.
The DeFi sector experienced a similar decrease as the overall crypto market due to the inflation rates hitting a 40-years high of 8.6% in May. Total locked value (TVL) across all DeFi blockchains fell 21.2% to US$87.79bn today from US$107.62bn last Monday, 6 June.
Chainlink (-27.4%) fell the least this week possibly due to the announcement of a new roadmap for the platform which detailed a new staking system, user fee rewards, node delegation, reputation tracking, and the implementation of these new features. The initial implementation will begin in 2H22.
Durafi NFT Index (DNI)
7D Performance: -32.9%
The DNI declined by 32.9% in the past week mainly due to all index constituents falling more than 30% except for Decentraland (-19.1%).
The NFT market found itself struck down similarly to the overall crypto market as US inflation rates hit a 40-years high in May. According to data from CryptoSlam, the total sales of NFTs sold across all platforms in the past week fell by 30.7% to US$25.9m from US$37.3m last week, 6 June. The total number of transactions fell 38.3% week-on-week to 119,282 from 193,221.
In other news, Hyundai Card which is the credit card arm of Hyundai Motors has also announced that it was launching a joint venture with a South Korean startup called Like Lion to create its own NFT marketplace in 2H22. The marketplace will mint NFTs based on Hyundai Card IPs. The two companies have already worked together once to launch a limited NFT collection called MetaKongz on Opensea, back in April.
64% of NFT Buyers are Mainly Buying to Flip for Money
In a survey by DEXterLab that polled about 1,300 NFT buyers, 64% of people stated that their main reason for purchasing NFTs was "to make money". The second most popular reason for purchasing NFTs was for the "community & flex" with 14.7% of surveyees choosing this option. However, when the surveyees were asked if they had profited from NFTs, 58.3% stated that they had lost money instead.
Durafi Metaverse Index (DMI)
7D Performance: -30.2%
The DMI fell by 30.2% in the past week, owing to overall weak performance from all index constituents. Decentraland (-19.4%) was the least affected, while the rest of the index had underperformed by -34.28% on average.
The DMI was similarly affected by the news of US inflation rates reaching new highs. Axie Infinity (-35.8%) had the largest negative price action in the past week. This was likely due to Axie Infinity's user count falling by 37.96% over the last week to 194.99K players, according to data from Dappradar.
Durafi GameFi Index (DGI)
7D Performance: -35.1%
The DGI plummeted by 35.1% from the last week driven mainly by all constituents falling -by 34.74% on average.
The GameFi index was similarly affected by heightened US inflation rates. Furthermore, due to the high correlation between the crypto metaverse and NFT projects, Axie Infinity's underperformance and the fall in NFT sales were also likely contributors to the overall decline of the DGI.
Gala Games Partners with Fornite Creator Epic Games to Launch the First Blockchain Game on the Epic Games Store
The blockchain game called GRIT, is a battle royale game similar to Fortnite. The game will be free to play and players can earn NFT cosmetic skins for in-game items that can be traded and sold on NFT marketplaces. This is the first time a blockchain game will be launched through a mainstream digital game store such as the Epic Game Store. Epic Game's main competitor, Steam, does not allow blockchain or NFT games to be sold on its marketplace presently.
This is a major step forward for the GameFi sector as gamers with no exposure to NFTs and crypto will have a more familiar gateway to experience NFTs and crypto products.
Other Developments
75% of Merchants Looking to Accept Payments via Stablecoins or Cryptocurrencies Within the Next 24 Months
In a survey by Deloitte and Paypal, US consumer businesses were asked about their views on accepting digital currencies as payments and if they have invested in digital payments infrastructure. About 75% of surveyed organizations intended to accept stablecoins and cryptocurrencies as payment within the next 24 months.
Despite the current crypto bear market, merchants and organizations are optimistic about crypto's future as a means of payment with 87% of surveyees agreeing that accepting digital currencies as payment is a competitive advantage. Furthermore, 93% of organizations that accepted digital currencies as payment claimed to have positively impacted their customer metrics like total customer base growth and brand perception.
Other sentiments provided by the surveyees are as follows: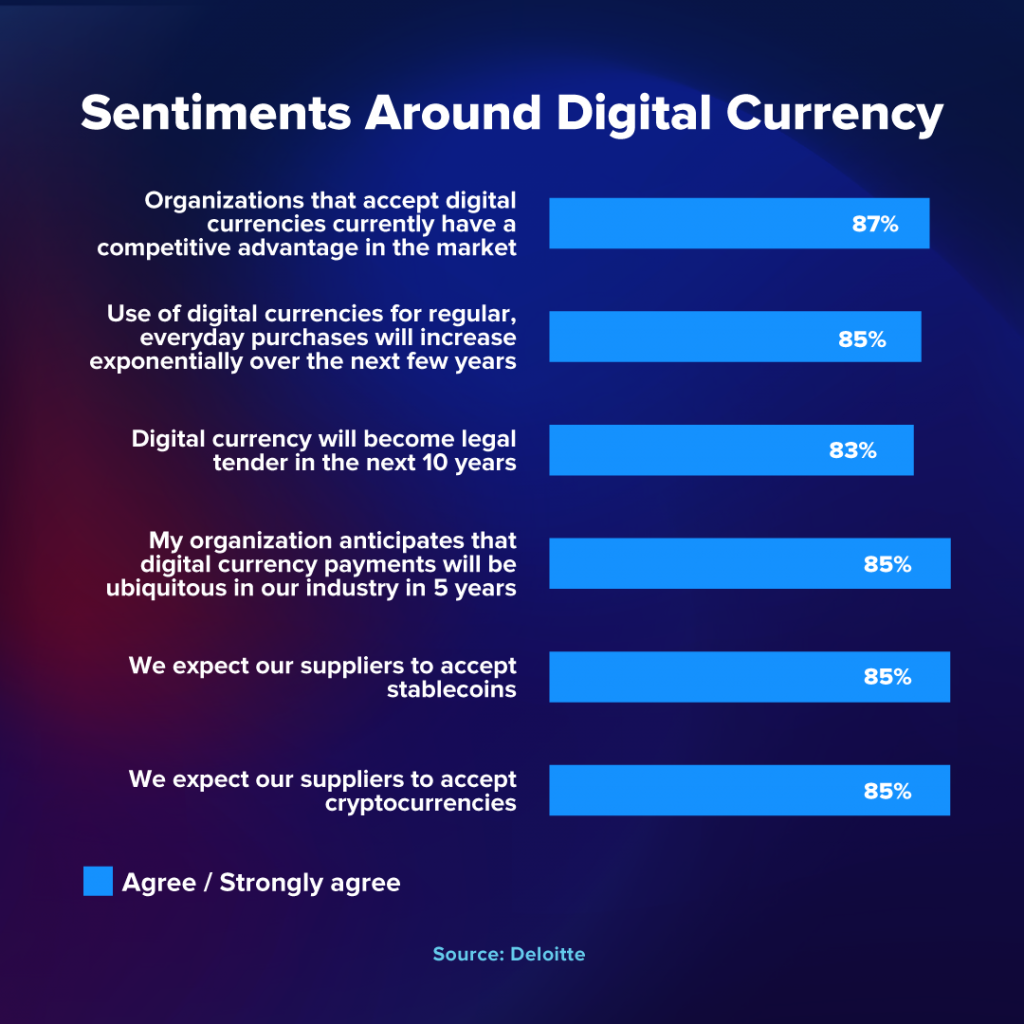 Merchants and organizations surveyed were also likely driven to accept digital currencies as payment due to the significant interest shown by their customer bases, as seen from the survey results below: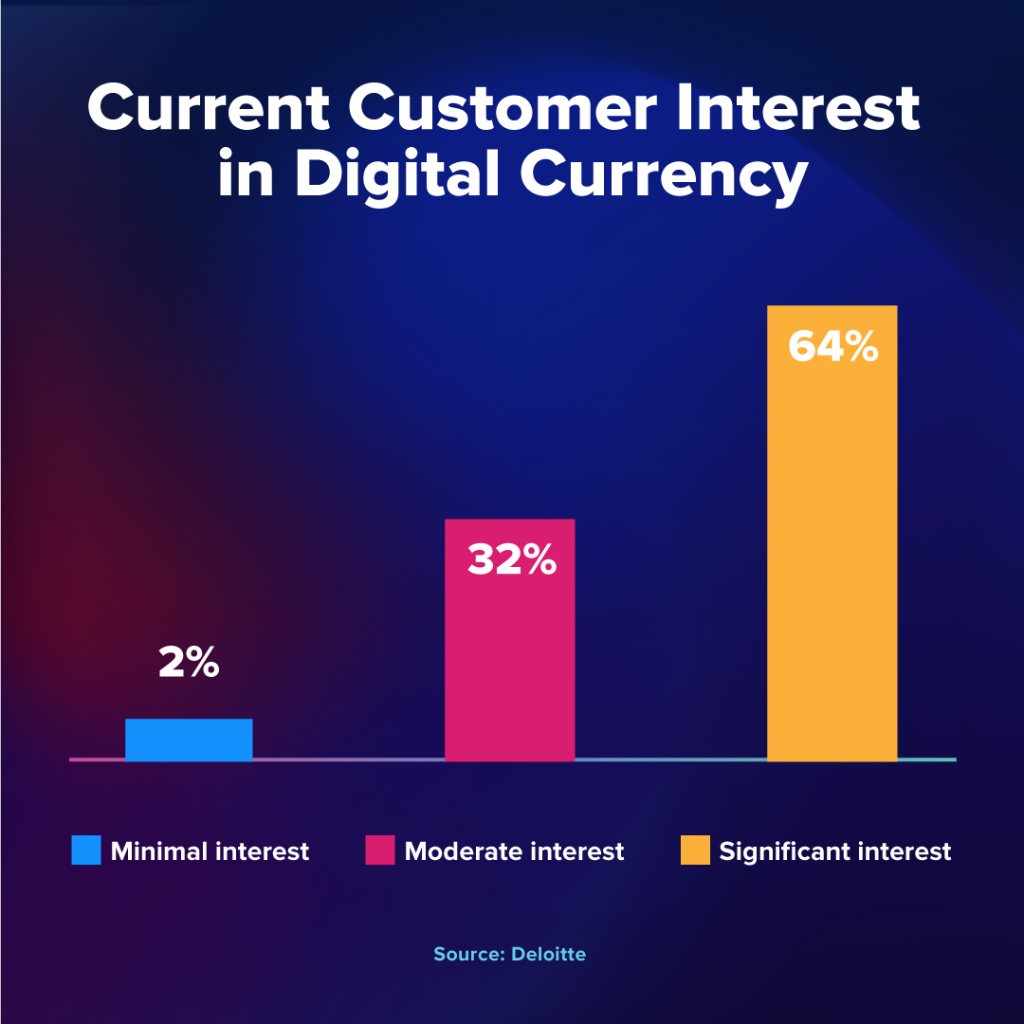 With 64% of merchants stating that their customers are showing significant interest in utilizing digital currencies as a means of payment, it is an indication to merchants and organizations that there is potential demand for such a payment method.
Although investments into a digital currency infrastructure among surveyed organizations are currently still small, 58% of smaller organizations with US$10m in revenue annually have invested between US$100k to US$1.0m into enabling digital currency payments. Survey findings also found that larger organizations were more likely to invest more, with 54% of bigger organizations above US$500m in annual revenue having invested over US$1.0m into digital payments infrastructure.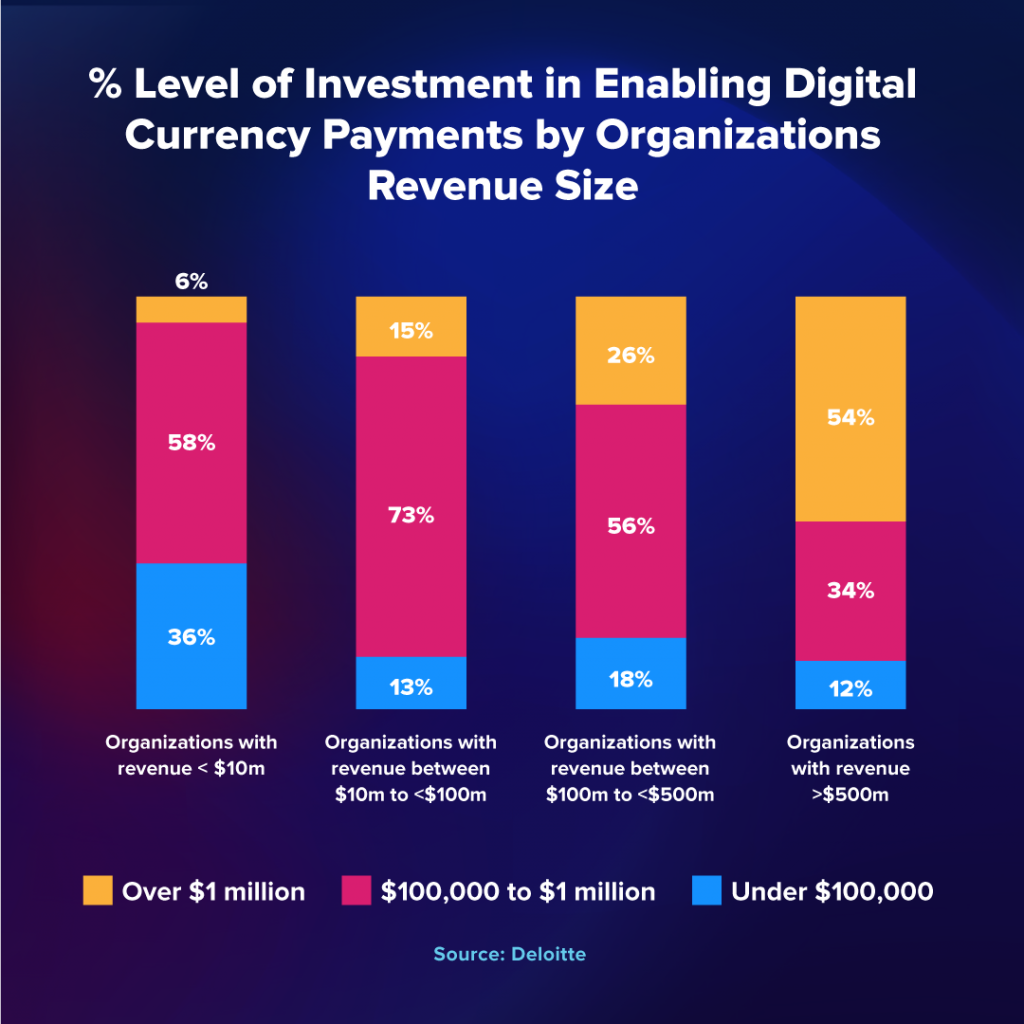 The survey results indicated that there is a strong interest from both businesses and consumers in driving the implementation of cryptocurrency payments even in the current bear market. As more organizations begin to accept digital currency as payment, it could become a driver for cryptocurrency adoption in the future.
9% of Global Insurers Ranked Cryptocurrencies Within the Top 3 Assets Expected to Deliver the Highest Returns in 12 Months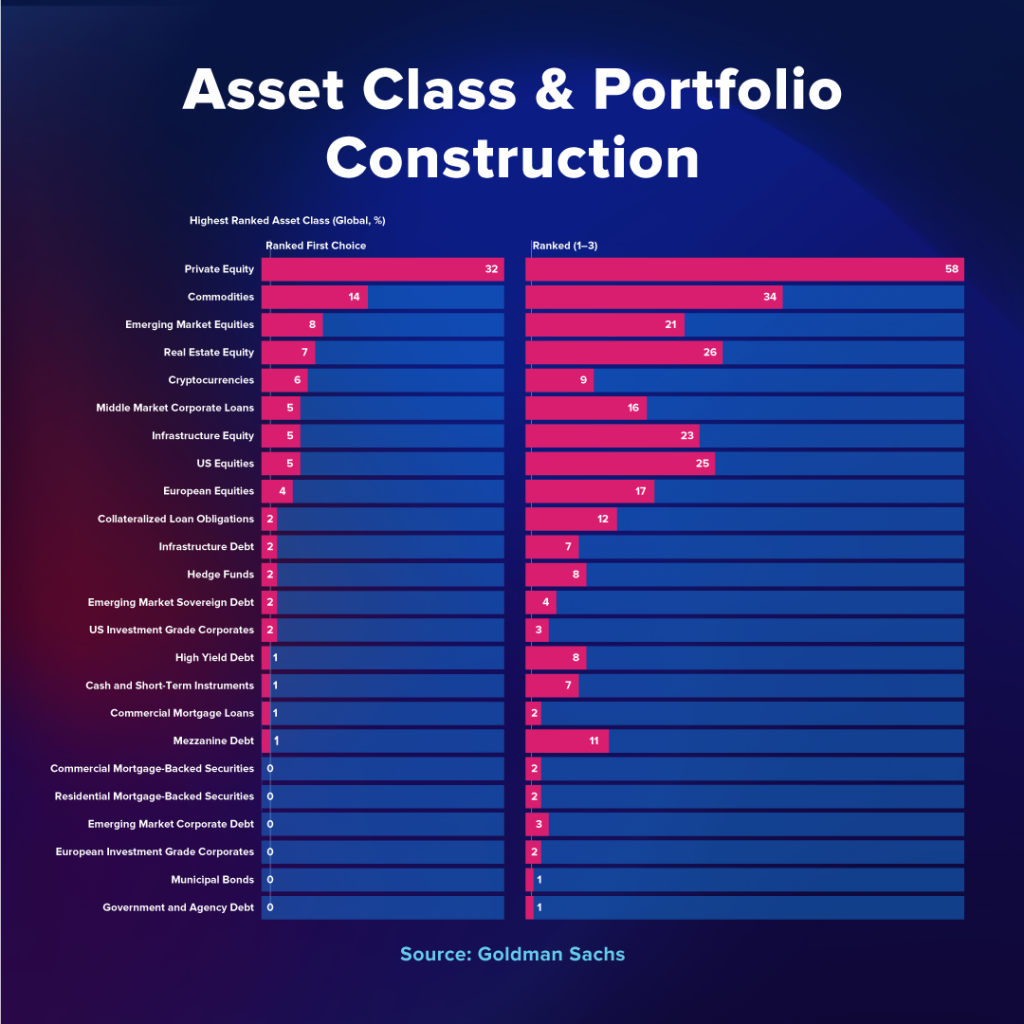 Goldman Sachs Insurance Asset Management recently released a report that surveyed 328 CIOs and CFOs from the insurance industry around the globe. The survey found that 9% of global insurers ranked cryptocurrencies within the top 3 assets to deliver the highest returns in 12 months, while 6% believed it was the top asset of choice to deliver the highest returns within the same period.
Outside of hedge funds and financial institutions with more aggressive investment styles, it is promising to see that insurers are also showing more interest in cryptocurrencies. Goldman Sach's Global Head of Digital Assets, Matthew McDermott expressed his surprise at the survey results as well:
"As the crypto market continues to mature, coupled with growing regulatory certainty, a cross section of institutions are becoming more confident to explore investment opportunities as well as recognizing the disruptive impact of the underlying block chain technology. I have been positively suprised by the rising adoption by Global Asset Managers, who clearly recognize the potential of this market"

– Matthew McDermott, Global Head of Digital Assets, Goldman Sachs
Durafi Crypto Indices Performance Details
Durafi Crypto Index (DCI)
Snapshot Taken on 13/06, 07:00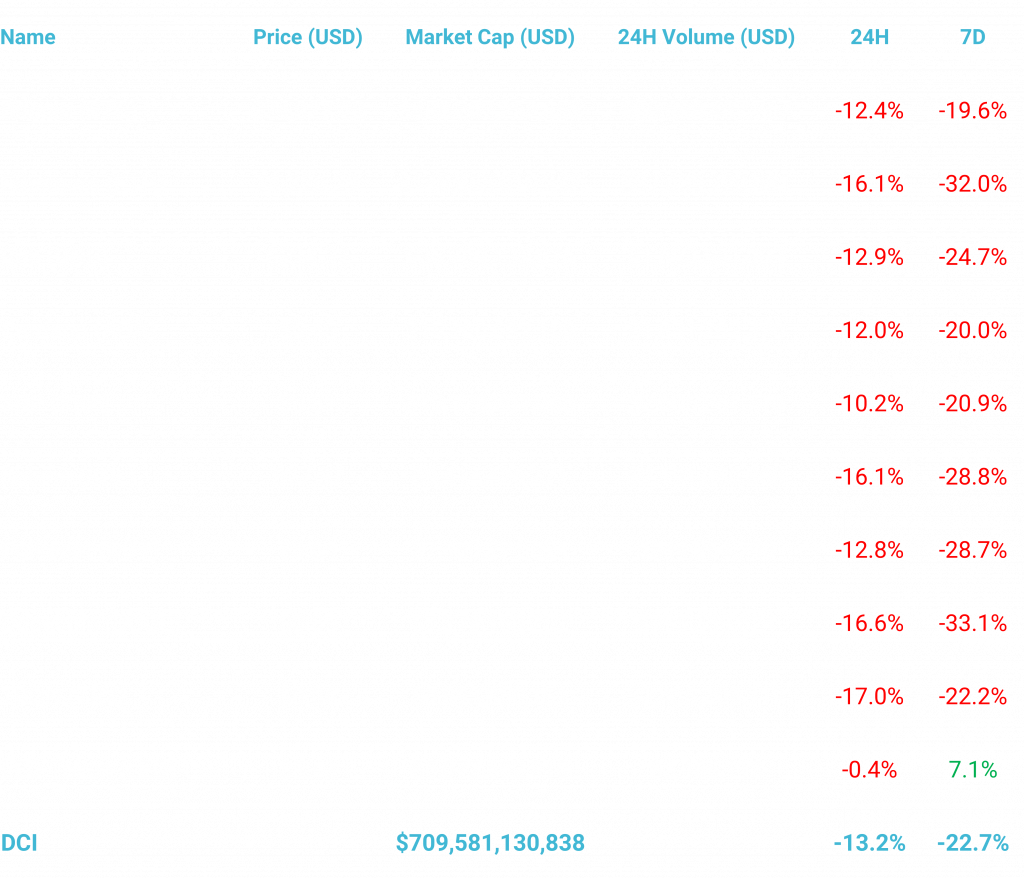 Durafi DeFi Index (DDI)
Snapshot Taken on 13/06, 07:00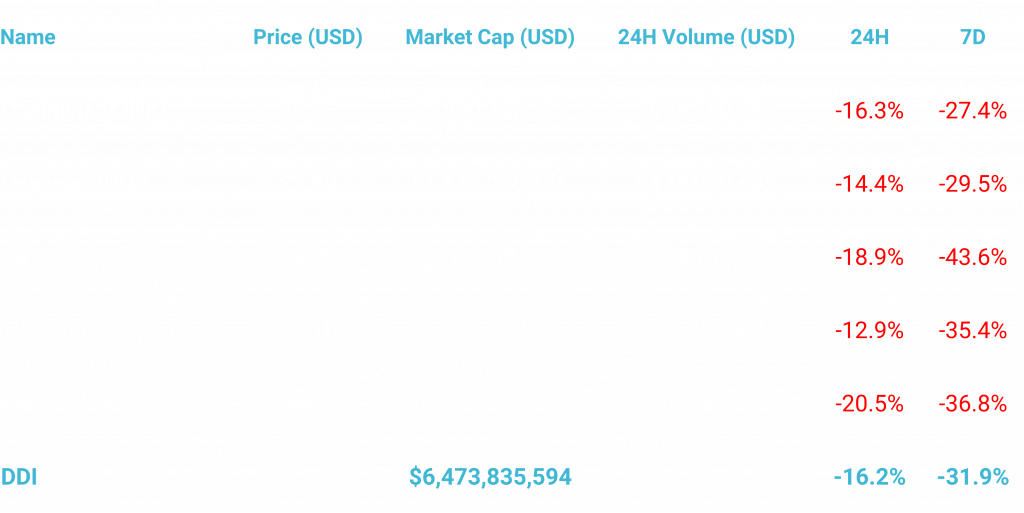 Durafi NFT Index (DNI)
Snapshot Taken on 13/06, 07:00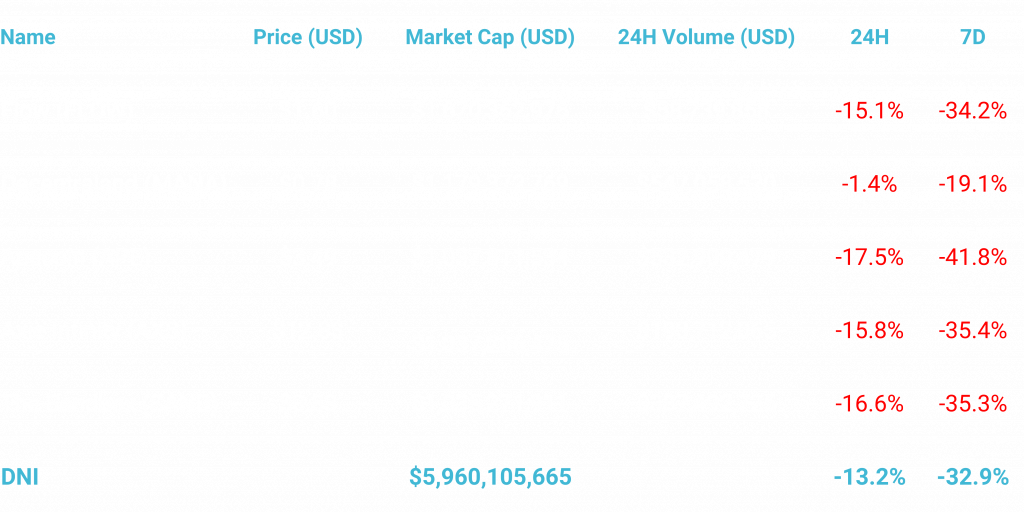 Durafi Metaverse Index (DMI)
Snapshot Taken on 13/06, 07:00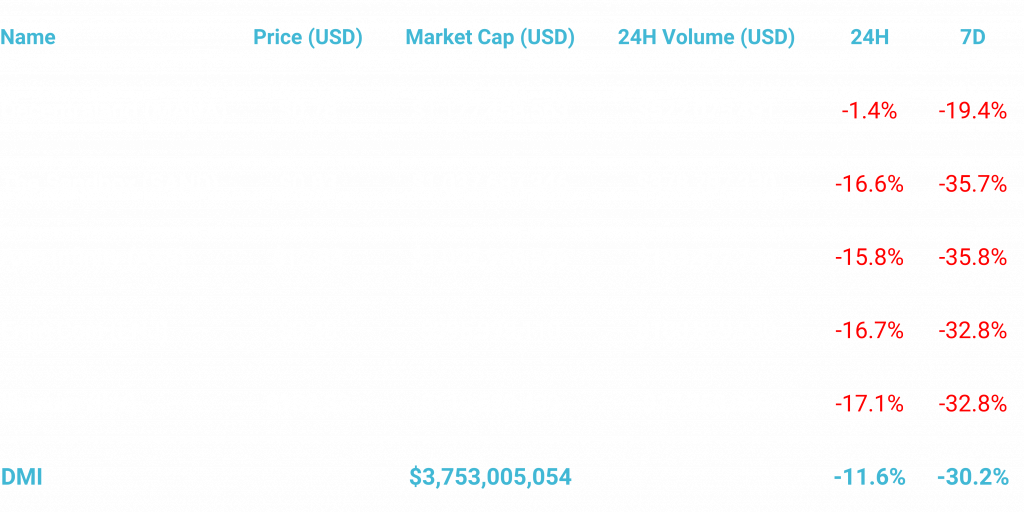 Durafi GameFi Index (DGI)
Snapshot Taken on 13/06, 07:00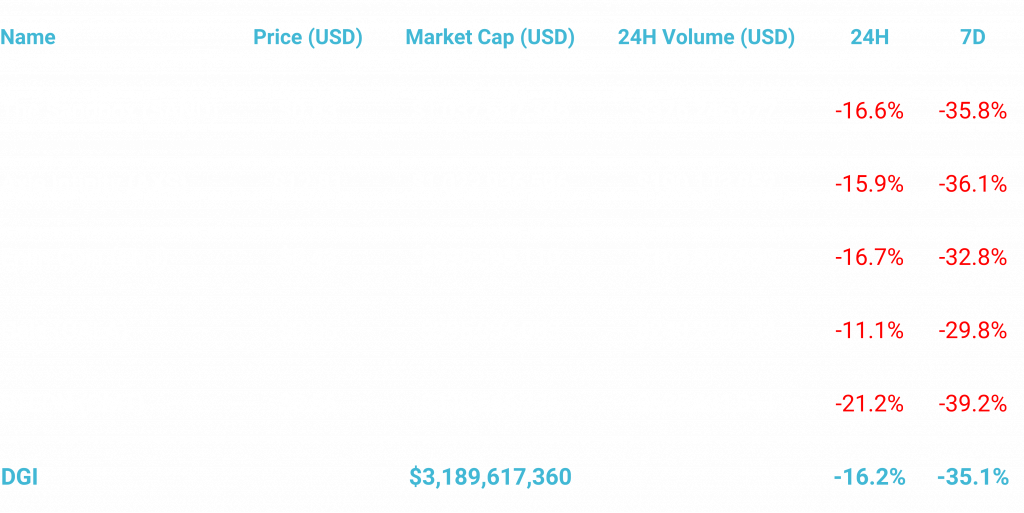 Disclaimer
This document is provided for general information purposes only. Nothing in this document shall be construed as a recommendation to purchase, sell, or hold any security or other investment, or to pursue any investment style or strategy. Nothing in this document shall be construed as advice that purports to be tailored to your needs or the needs of any person or company receiving the advice. The information in this document is intended for general circulation only and does not constitute investment advice. Nothing in this document is published with regard to the specific investment objectives, financial situation, and particular needs of any person who may receive the information.